The Home Page of the
KwaZulu Natal Bridge Union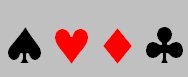 This is the web site of the KwaZulu-Natal Bridge Union. Here you will find news about forthcoming events,
affiliated clubs, master-points and all matters relating to Duplicate Bridge in the Province of KwaZulu-Natal.
The KZNBU 2018 Calendar is now available
Due to a clash with the GBU Casino Pairs
the date of the Jenny Armstrong has changed to 25 February 2018
Note that the SABF website has not changed the dates for the above two tournaments
Club calendars for Durban & Berea are now available
See here for details
The details for the Pam Golding Pairs on 28 January in Pmb are available
Note that the closing date for the entries has been extended to 26 January
See here for details and list of entries to date
The details for the Jenny Armstrong will be available later this month.
The Laws of Duplicate Bridge 2017 are available in PDF format
A simplified version is also available
See here for details
The website was last updated on Sunday 14 January 2018
Comments / queries or additions to the website please contact Graham Burrows gburrows@iafrica.com