The Home Page of the
KwaZulu Natal Bridge Union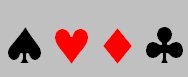 This is the web site of the KwaZulu-Natal Bridge Union. Here you will find news about forthcoming events,
affiliated clubs, master-points and all matters relating to Duplicate Bridge in the Province of KwaZulu-Natal.
The KZN Mini Congress was held at the Clarence Road Primary School from 29 June to 1 July 2018.

The Teams event was won by the Apteker team, with the Oliff team second
The Pairs were won by Alon & Noah Apteker,
with second, Hennie Fick & Nicola Bateman,
third Vanessa Armstrong & Denise Nordengen and Roger Wilson & Di Adrain fourth
See here for the full list of final results.

The Berea Bridge Club Calendar has been revised (see Calendars)
The Laws of Duplicate Bridge 2017 are available in PDF format
A simplified version is also available (See Steve)
See here for details
The revised SABF control of Conventions 2018 is now available
See here for details
The website has eventually been updated updated Tuesday 10 July 2018
Delay has been due to events beyond my control

Comments / queries or additions to the website please contact Graham Burrows gburrows@iafrica.com