The Home Page of the
KwaZulu Natal Bridge Union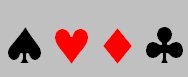 This is the web site of the KwaZulu-Natal Bridge Union. Here you will find news about forthcoming events,
affiliated clubs, master-points and all matters relating to Duplicate Bridge in the Province of KwaZulu-Natal.
As club results are now sent directly to all players, these will no longer be posted on the website.
The KZN Mini Congress was held over the weekend 8 to10 July 2016
For final results see here.
Detailed results have been posted as soon as available

The Petra Mansell Pairs will be held at Clarence Road Primary SChool
Saturday afternoon 20 August and two session Sunday 21 August 2106
Entries are open. Please see details
The South Coast Pairs will be held at the Margate Country Club
Saturday & Sunday 3 & 4 September 2016
For details & entry form please see attached
Peter Bircher has developed a page for Club results.
To see Club Results see here

Last updated Thursday 21 July 2016

Comments / queries or additions to the website please contact Graham Burrows gburrows@iafrica.com