The Home Page of the
KwaZulu Natal Bridge Union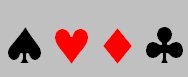 This is the web site of the KwaZulu-Natal Bridge Union. Here you will find news about forthcoming events,
affiliated clubs, master-points and all matters relating to Duplicate Bridge in the Province of KwaZulu-Natal.


We will be holding the Greyville 5000 at Maris Stella School
on 15 & 16 October 2016 (as per provisional dates)
Details of the tournament are available
This event is red pointed and is open to SABF members only
The entries close Wednesday 5 October 2016
Please see Entry list as at Sunday 25 September

A note regarding the SABF interclub to be held in Pretoria in November.
It will start at 2pm on Thursday 3 Nov and run till 2pm Sunday 6 Nov
Due to space at the club house club entries might be limited
Entries must be with Roz Bernstein by 14 October.

KZNBU will be holding our very popular Interclub Teams of Eight
at Margate Country Club this year on Sunday 4 December
For details please see attached

The website was last updated on Sunday 25 September 2106

Comments / queries or additions to the website please contact Graham Burrows gburrows@iafrica.com